The Mentor Family Network Organization addresses the need for organized, streamlined management of refugee settlement, enabling mentored progress to refugee independence and integration.


Our goal is to be integrated into government, other associations, and foundations, while bridging the gap to community support, leveraging the generousity of Canadians across Canada to increase the capacity and resilience of Canada's ability to assist in large numbers in a time of need.
| Settlement assistance through national accommodation placement and management. | Family mentors support, guide and mentor refugee family settlement through to full independence. | Raising support, aid and supplies for refugee settlement in Canada. |
| --- | --- | --- |
More about MFNO

What has MFNO been up to

Ways you can donate




How you can help families
In March of this year, while watching the news about the war in Ukraine, the founders knew they had to do more to help bring Ukrainian refugees to Canada. At first, this was going to be fundraising to send aid, and return with refugees. As research into how to accomplish this progressed, it soon became apparent where the real limiting factors were. Right here in Canada, the refugees needed a place to go!
After contacting various organizations and government, we confirmed this was a component of resettlement which needed to be improved, determined to help, we started the Mentor Family Network Organization modelling our program on other successful programs from the Syrian refugee crisis. 
We are starting small, but we have big dreams and hopes of being able to handle hundreds if not thousands of incoming refugees find temporary housing and accommodation with mentored support, access to aid and resources to efficiently fast track them to independence and reaching their goals in Canada.
---
2. What MFNO Has Been Doing
We hit the ground running once we knew what we had to do. In the short span of a month we have completed so much, and also here's what we're planning next:
COMPLETED
April 8th, 2022 - Registered our Not-For-Profit company - Mentor Family Network Organization

Developed a web presence at www.mfno.org with enriched services like newsletters, member access content, in a modern CMS system

Developed a management database accessible directly through the website - enabling Canadian National access to local data and knowledge being collected by the MFNO. Cities are being added one at time as our network and resources grow.

Solidified our banking, e-transfer and donation systems along with other financials

Raised over $11,000 in donations in our first month of official operations - special thanks to our private and corporate sponsors and supporters. 

Setup credit card processing to be able to accept credit and debit donations directly through the website with Level 1 Payment Card Industry (PCI) certification for absolute security.

Partnered with key Non-Government Organizations (NGO's) to improve and facilitate services to refugees arriving in Canada. You can find this list on our website in the partners section.

Created www.fundraiseukraine.ca as the fundraising website specifically for Ukrainian refugees. It's first offering is an aerial photography printed on large format canvass auction which incorporates historical information in English and Ukrainian for each amazing photograph of historical and architectural sites around Ukraine.

Applied for Charitable Status with the Canadian Revenue Agency at the end of April.

Sourced auctioneers and appraisors, printers and historical information for web auction of aerial photography.

Ongoing relationship building with local aid groups, government, NGO's and mentors to  grow support and the network

Placed 3 families in the Greater Toronto Area by the first week of May and supporting 4th family

Currently averaging less than 30 days in temporary accommodation! WOW

Sent out our first official newsletter - this one!

Received $10,000 Google grant for advertising MFNO.org and our initiatives.
JUST AROUND THE CORNER
Charitable status coming soon

Aerial Historical and Architectural Photography on Canvass Auction - more on this to come!

More families to be placed in temporary accommodations.
---
---
There is no doubt, housing and accommodation is both hard to find and expensive, especially in the GTA and many major city centres across Canada. The Canadian government is not deeming Ukrainians coming to Canada as refugees! This introduces limitations which otherwise would be available to families classified as refugees or asylum seekers. It is left up to organizations and the Canadian public to provide solutions and enable greater numbers of Ukrainians to come to Canada with a place to stay.
This is why we so desperately need your support to help find and pay for temporary accommodations for Ukrainian refugees. For a large family housing costs can be over $1000 every month in the GTA, but there are so many ways you can help with these costs:
DONATE ACCOMMODATION -

this is currently our greatest need

is to have as many places to temporarily house refugees for our Mentors to guide to independent settlement. Please register your accommodation today to help a refugee family! click below
DONATE -

this is our second greatest need

to help support #1. Send funds to donation@mfno.org to help or pay by credit card by clicking "Donate Today" below. If you pay by the online form, when we get charitable status - you will be sent a tax receipt.

BECOME A MENTOR with the support of the MFNO, always needed and a rewarding experience.




DONATE AID, personal items, clothes, food and more to MFNO to distribute to families  

(contact us to find out more)

BE A TRANSLATOR - know Ukrainian? Sign up to be a translator when needed! This can be in person, over the phone or video conferencing, we can accommodate just about any scenario.
---
---
4. How You Can Help a Family Right Now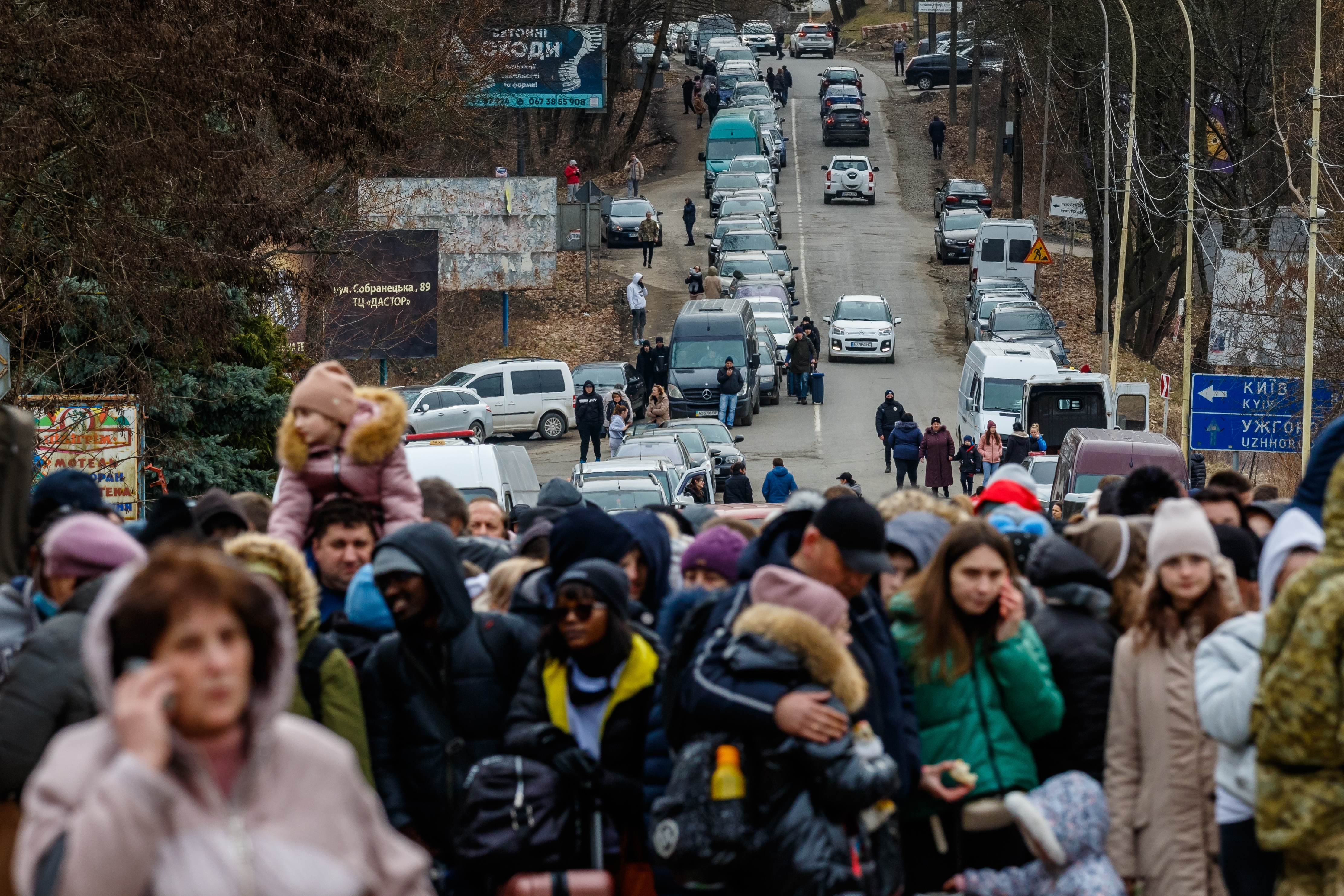 Refugee settlement is so much more than simply having the funds to support the cost of living in a Canadian City. Families are in shock, scared, often don't know the language, and have no idea what to expect or what to do next. 
There are over 300,000 applications by Ukrainians to come to Canada. Recently less than 80,000 of which have officially made it to Canada. Limitations? Sponsors or places to go slow down their application acceptance. We can solve this problem!
MENTORS help ease the anxiety, providing knowledgable, customized help and assistance to each family individually. Mentors in turn are supported by the network of Mentors in MFNO, our resources, funds and connections all contribute to building an efficient and integrated settlement process. Mentors can house the refugee family, or be external, but close by. Either Ukrainian speaking or not, translation will be made available for those who need it. 
It's as simple as registering for any of the following:
Become a Mentor Family with the support of the MFNO

Donate a temporary room, appartment, suite or house to an incoming refugee family

Support financially a family without the time commitment
The incredible power of a single action by an individual can change an entire family's future!
---
‍Donations currently can be e-transfered to donation@mfno.org or mail a check to:
Mentor Family Network Organization
5 Fontainbleau Drive, North York, ON, Canada, M2M 1P1. 
Currently we are unable to issue a charitable tax receipt for the donation, however we have applied for charitable status, and once approved, we can issue a charitable receipt, even for a donation received today. 
‍Forward this text to someone who you think should know about MFNO!
MFNO is a federally registered N‍ot-for-Profit Business - Registration Number: 732632203 RC0001
This newsletter has been sent to:
‍ ‍ emailed to:  ‍ ‍
If you do not want to receive these emails any more you can unsubscribe (not recommended for supporters and followers of MFNO) Unsubscribe ‍.